Ethernet in Hazardous Locations

Ethernet in the Process Industry
Industrial Ethernet has been a vital networking and communication solution in factory automation for decades. Today, it is quite widespread. The process automation industry presents special challenges due to potentially explosive atmospheres, which have so far not allowed the use of Ethernet. These requirements include intrinsic safety, configuration in run, redundancies for maximum availability and a long cable length, which is limited to 100 meters for industrial Ethernet. When using Ethernet solutions in the process industry, it is important to distinguish applications where they will be used by their respective Zones.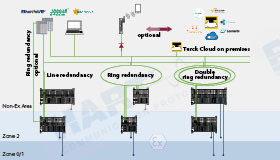 Ethernet for Ex Zone 2
Turck offers its excom I/O system with Ethernet for installation in Zone 2. The system can pick up signals from Zone 1 or 0. To plug and unplug the Ethernet connectors at the gateway in run, users must ensure that the gateways are de-energized or work with a hot work permit. All other components such as power supply units, gateways or I/O modules can be exchanged during operation without a hot work permit

Ethernet for Zone 1
Using Ethernet in Ex Zone 1 is technically more difficult. With interlinked devices, it must be ensured that power levels do not add up. Today, a consortium of companies is working to overcome these hurdles and develop a standard for a two-wire Intrinsically Safe (IS) Ethernet. Communication and power supply take place over the same line. The future standard is usually referred to as Advanced Physical Layer (APL). However, these developments are not yet suitable for broad industrial use in Zone 1 (status 03/2020). One day, APL should enable Ethernet connections up to the field devices. However, classic 4 to 20 mA technology and I/O systems will continue to exist in parallel for cost reasons alone, even after APL has been established.

Parallel data access
With the excom Ethernet gateway GEN, Turck opens up the world of the process industry for digitization and Industry 4.0. For the first time, all process, diagnostic, status and additional data can be transmitted at sufficient speed via a parallel data channel, without feedback into clouds or other IT systems for analysis and evaluation - a fast and easy way to achieve efficient condition monitoring and improve predictive maintenance. Controls and control systems remain completely unaffected and protected against access. Data transfer to cloud systems is carried out via: MQTT, OPC UA, Turck's encrypted cloud protocol Kolibri or via other open standards.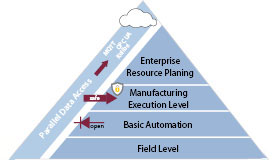 Cloud connection - also on premises
In addition to the transmission of time-critical user data to the control system, excom can transmit analysis data to any IT system in the network via parallel data access. However, it is advisable to first analyze data in an edge device and then send only the results to the cloud. The cloud can again be implemented as a "private cloud" without Internet access (on premises) or in the classical way.
Here, Turck offers alternative paths in addition to its own cloud solution with industry-specific data visualization and the encrypted cloud protocol Kolibri for the highest security requirements. Via the Turck cloud hardware, data can also be transferred to one of the large cloud systems via MQTT or OPC UA.
Highest availability thanks to redundancy
The integrated Ethernet switch enables simple line topology construction without external switches. An extension of the line topology to a ring topology is possible at any time using the redundancy protocol. All that is required is that all stations support the MRP (Profinet) DLR (Ethernet/IP) redundancy protocol. Excom also establishes gateway and power supply redundancy, which further increases the system's reliability and supports further redundancy concepts.
Profinet redundancy concepts
Different network topologies: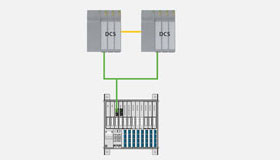 S2 Redundancy: two masters and one gateway
Two masters, one gateway
By S2 redundancy the specification understands a system consisting of two controllers and one device, here an excom gateway. Here the masters synchronize themselves internally via a backbone bus and both maintain a connection to the participant. Turck also offers its IP67 IO-Link master module TBEN-L-8IOL with S2 redundancy.
One master, two gateways
No standard was specified for this redundancy concept in the Profinet context. However, this redundancy also reduces the probability of failure. The advantage: It is more cost-effective than other redundancy concepts. Nevertheless, this concept is rarely used because the control system is usually the most critical point in a system and its failure cannot be compensated for by the solution with redundant gateways.
Two masters, two gateways
Excom can also map the highest redundancy with two gateways and two masters. In this setup each gateway communicates with only one master. The two masters act out internally who is the master and who is the backup master. With Profinet, this system redundancy is specified with R1. For Ethernet/IP or Modbus TCP no corresponding redundancy standard of comparable type has been defined so far. However, users of these systems can establish such redundancies with excom.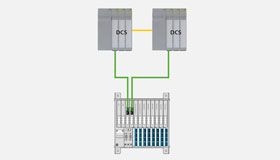 Turck´s own redudancy solution: 2 master and 2 gateways
Flexible network topology
The gateways have an integrated 2-port switch and can therefore be installed in a line structure like classic fieldbuses. Other standard Ethernet topologies such as star, tree and ring structures are also supported.

Multiprotocol
One gateway, three protocols - Turck's multi-protocol I/O devices recognize the master after start-up and automatically adjust to the respective PROFINET, Modbus TCP or EtherNet/IP protocol. excom Ethernet benefits from this proven standard and can be used right out of the box with all control systems that support EtherNet/IP, PROFINET or Modbus TCP.
For example:
Siemens
Honeywell
Rockwell
Yokogawa
Emerson
Supcon
ABB
Ethernet Products for Hazardous Areas
Follow these links to find your product in our product database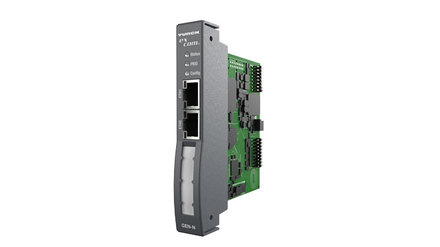 The GEN-N for mounting in non-hazardous areas
---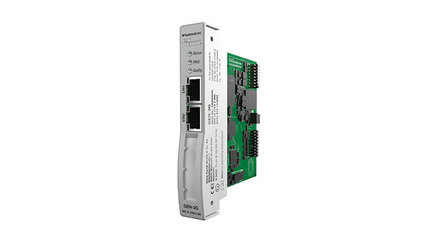 The GEN-3G for mounting in Zone 2
---